Wholesale Purchases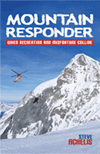 Resellers can purchase Mountain Responder from Ingram Book Company. This is especially convenient for booksellers who already have an account with Ingram.
Retailers can also purchase Mountain Responder directly from the publisher, Dog Ear Publishing, at sales@dogearpublishing.net or 866-823-9613. The minimum quantity for orders from the publisher is 10 books. Books are sold at a 40% discount (plus shipping charges).
Please feel free to contact us for additional assistance with wholesale pricing.